Currently, there seem to be massive problems with the sending service provider Sendgrid for transactional e-mails.
We ourselves use the service for our software DA-FormMaker, a software for easy creation of HTML forms. For one week now there are massive problems. Most mails cannot be delivered. We reacted promptly and switched to an alternative delivery method for our customers, but it is still an absurdity that a provider like Sendgrid cannot solve the problems within a week.
What has happened?
Since the Sendgrid website and also the Twitter account are not much help, it is difficult to get reliable information. Therefore everything here is speculation. At least on Twitter there are a lot of people complaining, but the Twitter account only refers to the support. But the tweets of the users don't sound as if they can handle the situation.
Apparently Sendgrid has been hacked, whereby not Sendgrid itself but user accounts. These accounts were then used to send spam and other nonsense. This leads to Sendgrid's servers ending up on the blacklists in no time.
This means that it is no longer possible to send the mails in a meaningful way, most e-mail servers reject the mails with this.
In practice
In practice it looks like this: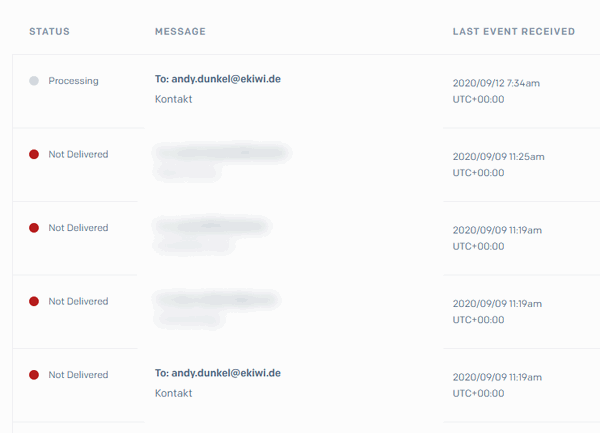 Most mails can no longer be delivered. First of all, you stay in the "Processing" status for a long time (about 3 days). During this time the Sendgrid servers will try to deliver the mails again and again, which will fail after a few days.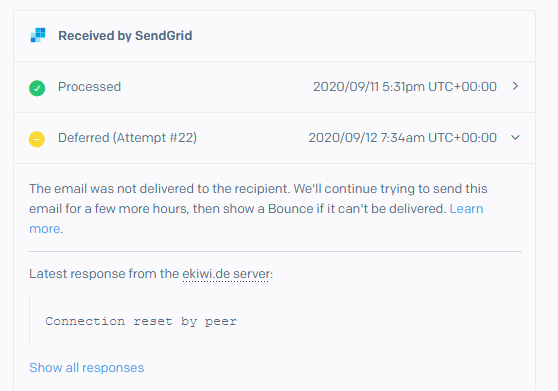 The problems occur since about 03.09.2020. As of today (12.09.2020) the problem is still not solved. It is quite possible that it takes some time until the servers are off all spam filters and the mail providers allow the delivery of the mails again.
Conclusion
For a provider like Sendgrid, this is of course a disaster, after all, the provider advertises to circumvent exactly such problems and to transport large amounts of mails safely to the inbox. Without being filtered out by spam filters. In practice, this has not always worked in practice, and Sendgrid servers have repeatedly ended up on the black lists. Usually only for a short time, but still annoying. Of course it is not so easy for the provider, he cannot control every e-mail that is sent. There is always a little bit of dirt.
This is the information I have at the moment. Do you also have the problem or additions? I am looking forward to your comments!
Update 09/16/2020
The problems persist. E-mails are still blocked, and many people continue to complain about the same problems on Twitter. Meanwhile, it is also slowly becoming clear why the e-mails cannot be delivered, many sendgrid IPs have landed on the spamlist of Spamhaus.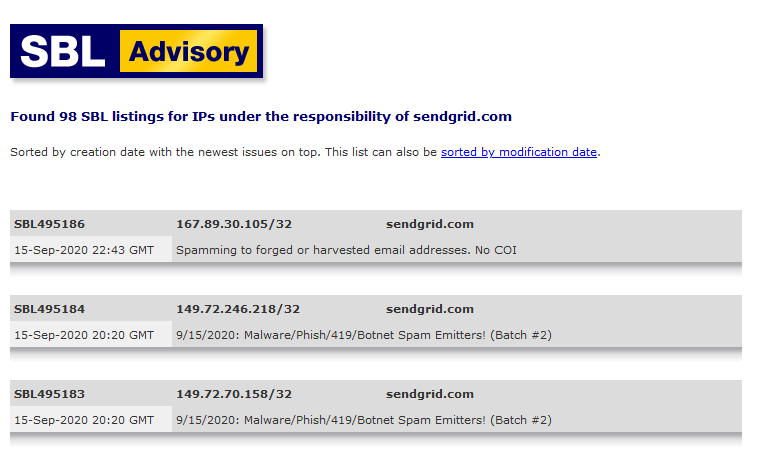 E-mails still remain in the "Processing" status.

Update 11/08/2020
Well it's been almost two months now and the problem still persists. I am trying Sendgrid from time to time to see if the mails are getting through. Still no luck.